Marvel Animation Age Webmaster
Staff member
Administrator
Reporter
Joined

Apr 15, 2002
Messages

18,536
Location
It's been a while since I've done one of these on this Marvel animation forum, but with Carnage set to make his big screen debut in the upcoming
Venom: Let There Be Carnage
movie, I thought now would be a perfect time to look over some of his animated appearances. Enjoy!
___
The 1990s has often been described as a difficult time for comic books. With the market booming in the early part of the decade before famously falling out of the bottom towards the middle/end of the decade before Marvel's merger with Toy Biz, it's a fascinating time to look back upon. As a Spider-Man fan who was in and out of comics at the time, I am often told of how terrible the creative teams were in the 1990s when plot thin crossovers, shiny variant covers and belts with endless pouches too small to fit anything were all the rage. Looking back, it would appear one of the main reasons
The Amazing Spider-Man
went downhill so fast was due to the absence of stalwart writer David Micheline.
While his run is not often whispered in the same breath as some of the all time greats, I believe it should be. True, he was upstaged by the terrific artistic trio who served on the book with him, mainly Todd McFarlane, Erik Larson and Mark Bagley, but he seemed to be the first writer who knew what to do with the married Peter and Mary Jane, brought back the Sinister Six for what is still their best story and of course, created Venom and Carnage, the two most popular villains of the 90s.
In the introduction to the
Carnage
trade paperback collecting his debut storyline, Micheline confessed he originally planned to kill Venom/Eddie Brock off and have the symbiote bond with other existing characters around #400. What he did not expect, was the massive surge in sales and popularity for Venom, meaning there was utterly
no way
Marvel would allow him to kill the Lethal Protector off. In lieu of the symbiote obtaining new 'hosts', he decided that an entire new character would be better suited and Cletus Kassidy was created. With fans enjoying the undeniably/nonsensical crazy sense of justice Eddie Brock had, Micheline went the entirely opposite direction with Cassidy and created a serial killer who had no intention of saving any innocents.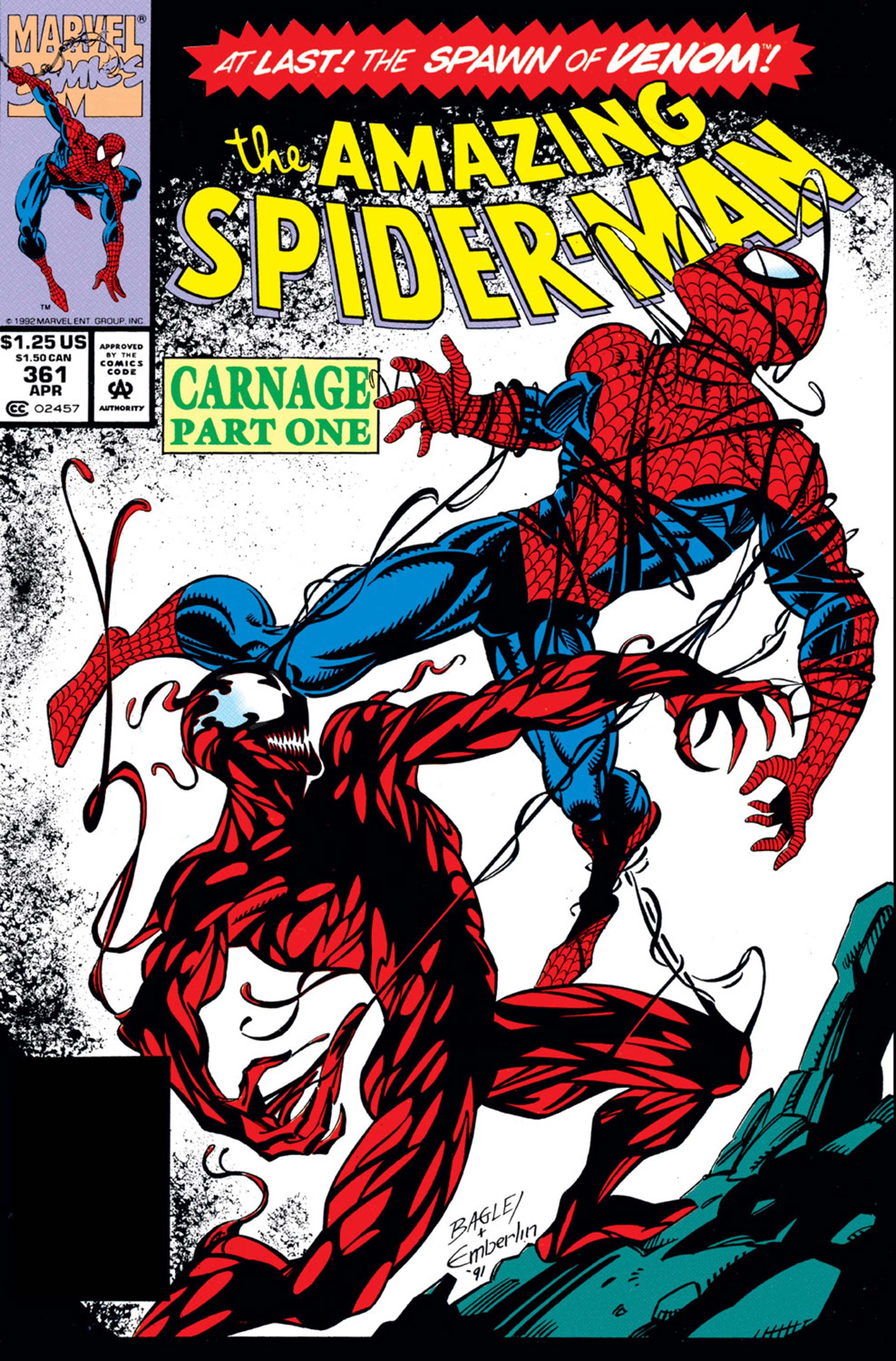 Debuting in
The Amazing Spider-Man #344
, fans were teased with his appearance as the symbiote broke Eddie Brock out of prison and left a small fragment of itself behind before finally debuting in #361 as Carnage. The three part story sees Spider-Man utterly outmatched by his new foe and returning the to Island on which he exiled Venom following their previous battle, in which Brock actually thought he'd defeated and killed Spider-Man… which I thought was trifle too convenient, as if Venom ever returned to anywhere with a TV/Newspaper, he would see that Peter Parker/Spider-Man was alive and well, but in the smaller scheme of things, a
Predator
inspired battle between Spider-Man and Venom was a great read, and Erik Larson drew an incredible Venom. It is easy to see why Venom was so popular in his original handful of appearances. (In fairness I haven't read the storyline in so long, there may be a reason why indeed Brock decided to stay on the island, but if there was, I cannot remember what it.)
With the introduction of Carnage and Spidey being undoubtedly outmatched by his new foe, Spidey sought an alliance with an enemy he once thought to be his most dangerous certainly made for interesting drama, I read this collected story as young lad and thoroughly enjoyed it. While it seems stupid to think of it now, in those days, stories only got collected in trade paperbacks if they were a big deal and make no mistake, Carnage was a big deal for Marvel. It also meant that Carnage was one of the few villains at the time, I knew a great deal about before I saw their animated debuts. I had also played the hell out of the excellent
Maximum Carnage
video game for the Sega Mega Drive.
Sadly, his success became his downfall as most of his further appearances only seemed to dilute his character rather than add to it… shortly after this the
Maximum Carnage
comic book storyline was produced, which seemed to be nothing more than an excuse to have Venom and Carnage appear across all four Spider-Man books for a 3 month period in hopes of huge sales. It was later turned into an aforementioned video for the Mega Drive/Super Nintendo but as far as story goes, it was paper thin. Sadly Micheline left
The Amazing Spider-Man
and was replaced by J M Demattias, who sadly, wrote mostly drivel disguised as a deep philosophical take on Spider-Man in which he decided that Peter Parker was the problem and he was abandoning his humanity as Peter Parker to become The Spider… then we got to Traveller, the return of The Jackal and the Clone Saga mess and it was clear the marketing department was writing as much as the writer and it would be years before
The Amazing Spider-Man
would be worth reading again… Chapter One, Tom Defalco, Howard Mackie… it wasn't until JMS came along that Marvel's flagship title was actually
good
(and editorial certainly endhttp://marvel.popgeeks.com/spideytased his run on the sourest of notes). Personally, Micheline, or a writer of his ilk, was missed for what felt like a good decade.
Getting back to Carnage however… in the 90s he was arguably the most popular supervillain going. Which meant it was no surprise that when a new Spider-Man animated series was greenlighted, Carnage
had
to appear. What was a surprise however, was that he did not appear until the middle of season three. To give context, he was featured in the very first wave of action figures so fans knew he was coming long before he actually showed up. I personally had the Carnage figure for years before he appeared in the show, but there was no Hobgoblin drama of getting him in the show early, the figure seemed to sell well based solely on his comic book popularity. With the introduction of Venom in
The Alien Costume
being one of the shows very best stories, anticipation was high for Carnage.
Sadly, by the time season three debuted, the shows quality had dropped. The editing had become something of an embarrassment, the animation had dropped to often cringe worthy levels and the pacing of each episode was often too frantic… which was especially annoying when the show had as many flashbacks as Spider-Man did… it was clear they were trying to save the animation budget by reusing as much old animation as possible, but the 'tricks' used to do this weren't at all clever, especially as the Spider-Man model seemed to tweak every episode. While the show was normally well written, there was usually a lot going on in every episode, compared to the better paced, much better animated stories in the opening season. These two episodes alone feature Venom returning, the introduction of Cletus Kassidy, him becoming Carnage, a team up with War Machine and later Iron Man, more Madame Web lessons, a romance between Eddie and Dr Kafka as well as Dormammu and Baron Mordo, who despite being perfectly entertaining villains, really were not needed in this story… or in any Spider-Man story, unless Doctor Strange is featured. That's a lot to do in 44 minutes!
It must also be said that Carnage is clearly neutered from his comic book character here. Those of you expecting a serial killer clearly were not going to get one from
Spider-Man: The Animated Series
, as violence of pretty much any kind was strictly prohibited. Broadcast Standards and Practices would've promptly crapped their pants if the show had tried to fully adapt Carnage from the comic books here. The reigns never let up on
Spider-Man: The Animated Series
, the show faced problems in every single episode because of the backlash from the violence shown in
Batman: The Animated Series
and
Mighty Morpin' Power Rangers
. Having interviewed many of the writers and in a cool gift, actually been provided some of the BS+P notes from this very story, it's surprising that the show ever made it to air. They were
that
strict with the censorship in this show.
The story sees Spider-Man capture Kassidy, who had attempted to blow up the orphanage he grew up in. He is sent to Ravencroft and is institutionalised next to Eddie Brock, who was arrested following The Alien Costume Part 3, and presumably also institutionalised by telling everyone he was bonded to an alien, while having obvious anger issues towards Spider-Man and being found trespassing unconscious in a Space Shuttle Exhibition, without his shirt no less. With the symbiote still stranded in space, Dormammu instructs Baron Mordo to retrieve it as it returns to Earth and hypnotises its new hosts into reuniting the symbiote with Brock, so he can retrieve Tony Stark's new Interdimensional Transporter, which Dormammu plans to use to free himself from the dark dimension he is trapped in. Oddly, instead of instructing Mordo to help Venom defeat Spider-Man and War Machine with his own not unformidable mystical powers, Dormammu explains the symbiote was about to reproduce, giving us the Carnage symbiote, which he then offers to Cassidy in exchange for his servitude.
I have to admit, it was incredibly cool to see Kassidy bond with the symbiote, and the model for this scene has the same kinetic skin from the comic books, offering some very nice visuals for a change. I think this Carnage model is actually one of the shows best, which I can only assume is because they knew Carnage needed to look his best here… I was pleased with what we got, especially in part two, when the animation and colour quality increased massively from part one, which looked fairly flat and pale in comparison.
Carnage is voiced by Scott Cleverdon here, who I think does a fantastic job. He manages to sound full on looney tunes without overdoing it and appears to be having a great time while he's at it. I can't say I've ever heard of Cleverdon's work on anything else other than this show sadly, but he was more than a credible Carnage here. Overall, I do think the show is well cast throughout with some actors sadly overlooked. Neil Ross, Roscoe Lee Brown and even Chris Barnes never quire get their due as to how utterly fantastic they were The Green Goblin, The Kingpin and Spider-Man himself.
Rather than kill people, Carnage sucks the 'life force' out of them as an equal amount of energy is needed to replace Dormammu's in the dark dimension, and the visual of Carnage extracting the life out of his villains was actually pretty cool, but the weak side of the story is that after waiting to see Carnage for so long, he is essentially a puppet for Dormammu. He is actually killed off at the end of the episode (being trapped in another dimension instead of dying was a trick this show used Broadcast, Standards and Practises throwing a hissy fit). As someone who had only seen season one Iron Man at the time I first viewed this episode, it was also a bit odd seeing how quickly Iron Man suggested throwing Carnage into an unknown dark dimension. Another great bit sees him smash the Interdimensional Transporter to bits;
Spider-Man: Hey! That belongs to Stark Industries!

Iron Man: If Tony Stark has a problem, he can take it up with me!
Ah, the good old days of Iron Man's somewhat stupid secret identity. Bonus points for casting Robert Hayes as Iron Man again, he's still my favourite Iron Man voice.
Venom turns babyface (to utilize a professional wrestling term) and sacrifices himself to save Kafka. Madame Web warns Spider-Man he himself may have to make such a sacrifice one day. At this point, it was clear the Madame Web storyline was building to something big… I didn't see it at the time, but Madame Web's arc over the course of the show was to get Peter passed his own self doubt, which later brought us to the finale.
Having tested Spider-Man with the Secret Wars, Madame Web and her master, The Beyonder, had vexed their powers and were unable to stop an evil version of Spider-Man, bonded with the Carnage symbiote, to stop him blowing up all reality. Travelling back in time, our Spider-Man is tasked with leading a team of Spider-Man from different realms to stop Spider-Carnage in what is now known as the original Spider-Verse. Dan Slott denies this being an inspiration for the comic book storyline which later became an incredible animated movie, but the similarities are easy to locate.
While Cletus Kassidy doesn't appear, essentially an alternate reality version of Spider-Man is bonds with what may well be 'our' realities Carnage symbiote, driving him insane. While it did sting a little to see the Mary Jane cliffhanger unresolved, the episode offers an utterly fantastic character piece for Peter who is essentially overcoming his own demons and shortcomings, by saving Gwen Stacey, the one who he ultimately failed to save in the comics, and by bringing that dimensions Uncle Ben to remind Peter that he's stronger the symbiote, the evil inside him and reminding him that with great power there must also come great responsibility. There's no final fight here as Spider-Carnage admits his evil doings and essentially commits suicide. Semper understood his assignment here. It's worth adding that Christopher Daniel Barnes made for an excellent villain here, if any casting directors are reading this, give his agent a call. He was a truly excellent Spider-Man.
The show ends with Spider-Man telling Stan Lee, his creator, that he is happy with the man he has become and he has literally overcome his own perceived shortcomings before Madame Web returns and explains that he's saved all reality and his reward awaits him;
"Face front true believer! We are going to find the real Mary Jane Watson! It has been a long, hard road and I think you are finally entitled to some happiness!"
The show was never renewed for further episodes because executive producer Avi Arad fell out with Fox Kids executive, the legendary Margaret Loesch. It was a decision I believe Fox would later regret, because even reruns of
Spider-Man: The Animated Series
were still doing very strong numbers for many years. Marvel attempted to replace the show with
Spider-Man: Unlimited
, which was an unmitigated disaster.
Carnage was due to return in a hypothetical season six as he was transported back to Victorian Era England in which it would've been revealed that he was Jack The Red, better known as Jack The Ripper. Not sure how that one would've gotten past BS+P, but there was certainly a plan for more Carnage, had the show continued.
A small tidbit which many of you may not know… mindless versions of Venom and Carnage were originally supposed to return in season four in an episode which featured Ghost Rider. When Fox learned UPN were potentially planning a
Ghost Rider
show (via a backdoor pilot in
The Incredible Hulk
) they ixnayed the entire episode.
As a youngster, I was very much impressed with Carnage in the show. I wasn't expecting a murderous psychopath, and I think it would be foolish of anyone to assume that's what we'd get, but I did think there was more fun to be had with this version of Carnage (season four in particular, was crying out for a big villain)
It was certainly better than what came next…
Next: Planet of the Symbiotes