Moderator
Staff member
Moderator
Reporter
Joined

Feb 21, 2003
Messages

36,655
Location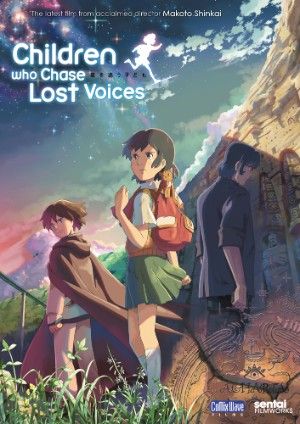 Children Who Chase Lost Voices
(2011)
Animation Production:
CoMix Wave Films
Director and Screenplay Writer:
Makoto Shinkai
Animation Direction and Character Design:
Takayo Nishimura
Art Direction:
Takumi Tanji
Music:
Tenmon
Distributor:
Sentai Filmworks
Release Date:
November 13th, 2012
Toonzone Coverage:
Synopsis:
When she hears a strange song from a crystal radio, Asuna tunes into more than just a magical stream of music. Soon, she is transported to a mysterious world where mythical beasts roam and brave warriors fight for their lives. Agartha is a land of breathtaking beauty and unimaginable danger-a place where, it is believed, even the dead can be brought back to life. But at what cost? Children Who Chase Lost Voices is a spellbinding new work from Japanese visionary Makoto Shinkai, who amazed audiences the world over with Voices of a Distant Star and 5 Centimeters per Second. Now, with Children, Shinkai affirms his place as one of animation's most original voices.
Comments?
[video=youtube_share;tmHo_0mgos0]http://youtu.be/tmHo_0mgos0[/video]